When you picture a perfect garden in your mind, what do you see? Well, for us here at 4AllSeasons and for a lot of people, a pond is definitely among the most defining, beautiful features a garden can have.
Do you have a pond? Or have you ever considered setting one up? If so, this blog post about the benefits of having one might be of some interest to you.
First and foremost, whether you have a natural wildlife pond, or you decide to have fish, both are extremely beneficial to your garden for a wide variety of reasons including the fact that they're beautiful, relaxing, and can be the start of a fulfilling, practical hobby. There's something so nice about spending time in your garden and taking in the sight and sound a pond brings to your own private space.
Ponds are also very beneficial to local wildlife and will bring lots of visitors to your garden who might not have appeared otherwise, such as newts, frogs, birds, and a whole host of insects. I personally love it in the summer when the pond in my garden acts like a magnet and draws the attention of dozens of beautiful dragonflies. (See picture below). But ponds can also help wildlife in a whole host of other ways, including being a potentially life-saving watering hole for birds, foxes, and other animals when they most need a drink. Having a pond unquestionably helps local wildlife thrive.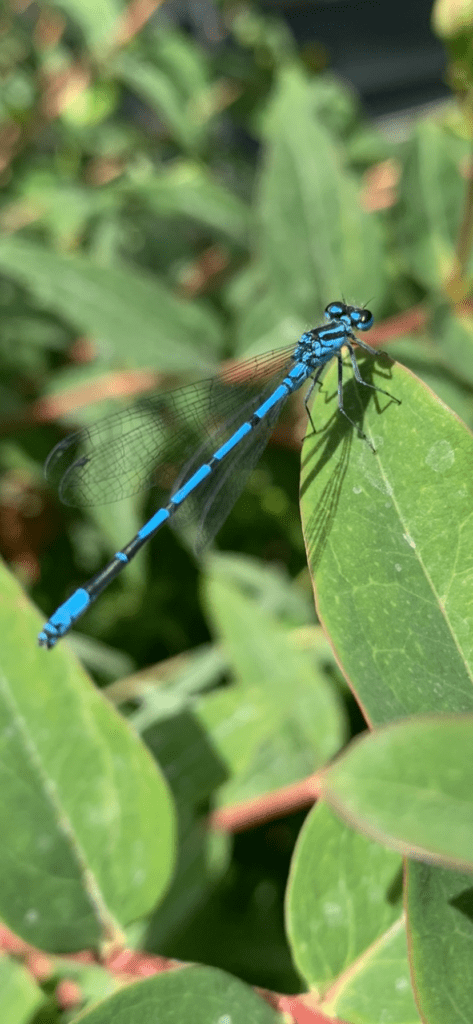 If you're looking for a new hobby you can get stuck into at home (especially during lockdown!) then a pond is definitely something to consider. Ponds do require a lot of upkeep and care to keep healthy, so if you decide to go for a more natural body of water and have a wildlife pond, then deciding for yourself what plants to introduce and watching them grow and spread can be a very fulfilling experience, as can fish if you decide to go down that road. Fish will of course need filtration and some protection from various predators if necessary, but caring for fish like goldfish and koi can be a very rewarding experience. There's nothing quite like a happy, healthy, thriving koi pond.
A few other extra benefits of having a pond is that they can be educational to adults and children alike, they're bound to get the attention of any visitors to your garden and will give you a chance to see others enjoy your hard work, and they can actually increase the property value of your home, which, even if you have no immediate plans to move, is always a good thing for the future.
If this blog post has inspired you at all to consider getting a pond or to get back to one that might need some TLC, then make sure you stick around on our blogs as later in the week we'll have a brand new post about how to set up a pond and care for one. We'll see you then!